Join our team !
La Nature cannot take shape and run properly without the help of a community-based energy. Led by a non-profit association, we recruit volunteer angels every year who will allow us to welcome the public in the best of comfort, but also to develop a friendly atmosphere, and a determined cooperative spirit.
Volunteer period
Build-up: from Mon. June 13 to Thu. June 23
Festival shifts: from Thu. June 23 to Mon. June 27
Breakdown: from Mon. June 27 to Wed. June 29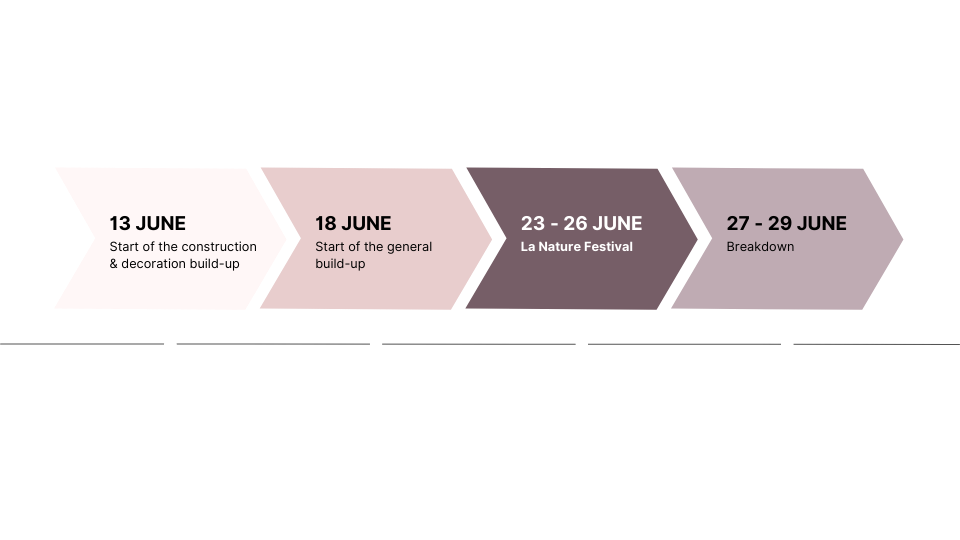 Minimal requirements
We ask you to get involved for, either:
─ 10 days of build-up and/or breakdown,
─ OR 6 days of build-up and/or breakdown,
─ OR 4 days of festival shifts.
Build-up/Breakdown shifts consist of 8 hours of work per day, and Festival shifts of 4 hours of work per day.
You are also required to purchase a festival ticket yourself, which will be refunded once the missions have been completed (the week following the festival). If you don't have a ticket yet, you can also directly transfer 85€ to the bank account of our non-profit association (more info during the registration process).
Benefits
Depending on the shifts, chosen or granted, the following benefits will be offered:
─ Access to the festival, camping and parking,
─ 3 meals a day (excl. during the festival),
─ Drink and meal cashless credits for the festival,
─ La Nature 2022 goodies.
When will you know that your demand to volunteer is accepted?
When you have fully registered and completed your profile, you will be invited to make your preference choices from all the available time slots.
Then Sandrine will contact you as soon as possible. This can take up to 3 weeks, as we contact everyone personally. No worry if that takes a bit of time, we will contact you very soon.
What will I get from helping you ?
When all your missions will be fulfilled successfully, we'll refund your ticket/deposit at 100%. In addition, you will also collect cashless credits that can be used in all bars, food trucks and other activities. For every day/shift you participate, you will receive 15€ in credits. In case you participate in the build-up and breakdown of the festival, you'll also get 3 meals a day.
What should I do in case of cancellation?
Please let us know on time, so we can find a solution to replace you. Of course, we hope this doesn't happen, but if it does, please send an email to crew@lanature.be
You'll get a free access to the campsite of course (but you'll need to bring your own tent!), the showers, a relax zone, … but most importantly, you will be part of a very committed and loving community of friends, creatives and good people <3